A social cultural program linking American & Dutch students

Trash serves as the theme for a cross-cultural Sister City virtual exchange between schools in Baltimore (USA) and Rotterdam (the Netherlands). Students research trash topics and recycling strategies and make presentations to share with their counterparts overseas. They are inspired to reduce litter and increase recycling in their communities while learning about each other's cultures. Several editions of the exchange program have been held over the past years between schools in the Baltimore and Rotterdam regions.
The Baltimore-Rotterdam Sister City Committee (BRSCC) is planning an edition of this exchange program during the 2022 spring semester for Baltimore and Rotterdam area schools. The program is designed for middle school students, grades 7 or 8, referred to as '1st and 2nd year classes' in Dutch high schools. This edition of the exchange takes place February to April, 2022.
Why Baltimore and Rotterdam?
Baltimore (in the state of Maryland, USA) and Rotterdam (in the Netherlands) have been sister cities since 1985. They share legacies as industrial port cities where neighborhoods are experiencing the loss of traditional jobs and have suffered environmental damage, and they both have very diverse populations. Sustainable trash management, zero waste, and circular economy are hot topics now in both of the cities.
Participating schools for the 2022 spring semester
About the Operation Trash virtual exchange program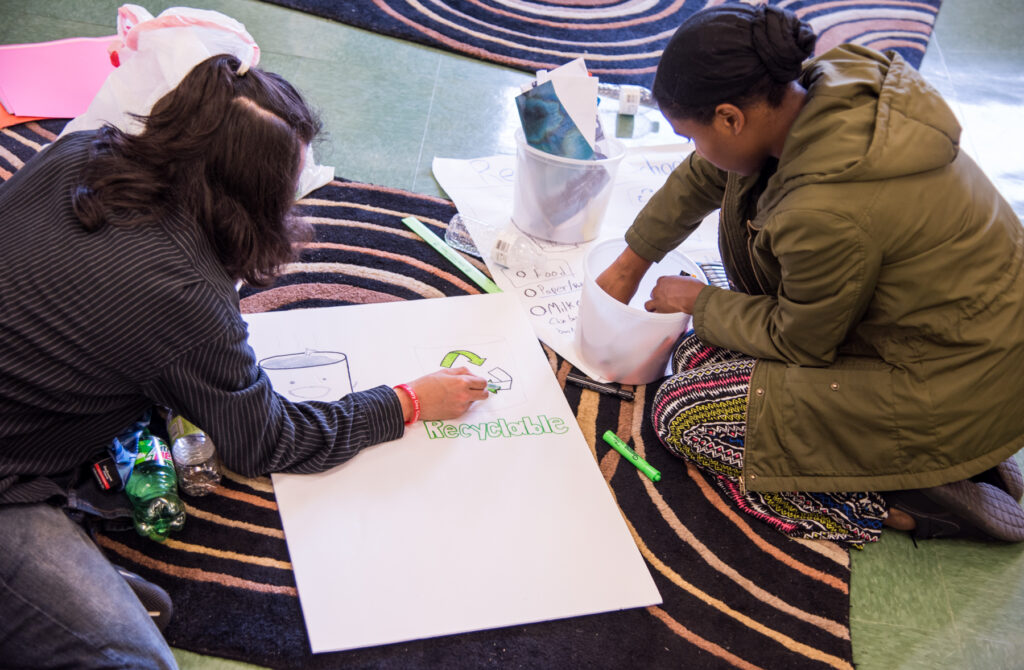 Students are guided to look critically at their own trash behavior and how this affects their communities as well as international waste problems. Students are asked to "think globally and act locally" to help reduce litter and increase recycling in their communities. Students link up with groups in their partner school abroad to meet virtually to share information about themselves, their school and their culture. Students research and share information regarding trash behavior and recycling strategies in their communities. Operation Trash exchange students are invited to take on the role of environmental stewards for their schools and communities.
The program broadens students' horizons beyond their cities. It invites students to deal with their own trash in an environmentally friendly manner, while learning about the consequences of our current trash behavior on a global scale. Operation Trash is designed to be interactive and full of hands-on learning strategies. It provides a great opportunity for students to learn about other cultures, for Dutch students to practice their English language skills and for American students to learn about European lifestyles through connecting with students aboard.
Project goals
Apply the concepts of Reduce, Reuse, Repair & Recycle.
Inspire participants to help find environmentally-friendly solutions for trash pollution locally and worldwide.
Support participants in becoming ambassadors for cleaner neighborhoods and increased recycling in their communities.
Learn about different cultures through virtual meetings, remote learning platforms and social media.
Project activities
Take inventory of recycling in school and communities.
Conduct a litter analysis of school and neighborhood.
Pick a trash topic, do research and present findings to an audience.
Link with students abroad.
Make and share videos with partner school's students about themselves and their community.
Post trash behavior findings and recycling strategies on project platform.
Take part in and/or lead community cleanups.
Format / options
Can be during school day or an after school program.
Can be combined with required curriculum programs in science, English, performing arts, visual arts, geography classes.
Communication is via a virtual platform. Communication is mostly asynchronous due to the time zone differences. Communication is in English language.
Program can be tailored to the needs and contexts of the participating schools.
Role of Operation Trash exchange teachers
Teachers in each school conduct the exchanges and lead a series of Operation Trash Virtual Exchange lessons. Kathie diStefano from Rotterdam-based Avalanche Arts coordinates the curriculum, provides lesson materials accompanied by teacher guidelines, and visits schools either virtually or in person. Teachers are free to adjust and sculpt the curriculum for their classes.
Schools are responsible for guiding the students in creating introduction videos. If they need outside help, the sister city committee has some contacts who may be able to help.
Teachers assist students in turning their ideas into action.
Teachers communicate regularly with exchange coordinator Kathie diStefano.
Approximate number of hours teachers are expected to spend on the exchange: 2 hours per week x 8 weeks = 16 + 2 online meetings (4 hours)  =  approximately 25 hours.
Funding
We do not charge the schools a fee for this program. Baltimore-Rotterdam Sister City Committee is looking for grants and sponsorships to cover the cost of the project leader (Kathie diStefano from Rotterdam-based Avalanche Arts) and related expenses. We welcome ideas for grantors and sponsors to approach.
See the sponsorship opportunities and benefits.
A big thank you to Baltimore Gas and Electric Company (BGE) for selecting Baltimore Sister Cities to receive a Green Grant for the "Operation Trash" project!
Interested in this exchange?
Contact Baltimore-Rotterdam Sister City Committee at
About the project leader   
Kathie diStefano, Avalanche Arts

Left: Kathie diStefano teaching an "Operation Trash" workshop in a Rotterdam school. Right: Conducting an environmentally-themed workshop at Curtis Bay Elementary/Middle School in Baltimore.

Kathie diStefano, co-founder of Avalanche Arts, employs interactive techniques and theatre arts to create awareness for environmental themes among her audiences.
Avalanche Arts (called "Stichting Lawine" in Dutch) is a Rotterdam-based nonprofit founded by Kathie diStefano and her Dutch husband Aloysuis van Saus. This organization has been bringing people together through performance and arts education for over 30 years. Shedding light on important social themes to audiences both large and small has been a consistent part of their work.
For more than a decade Avalanche Arts has been focusing on the green theme. "Learning through laughter", the company motto, combines comedy with Eco-education. Avalanche strives to "tickle their audiences into change" so that people learn how to deal with trash in a way that does not continue to damage our environment.
Avalanche Arts has conducted many workshops and exchanges with Baltimore, including with Benjamin Franklin High School, Curtis Bay Elementary/Middle School, and Filbert Street Community Garden. (Full list of schools and partners). Kathie diStefano is also a visiting artist for Young Audiences Arts for Learning Maryland. More info about Kathie is on her blog website.
Together with her Avalanche Arts' team she has developed educational curricula tailored to every grade level. She has won an award from the World Wildlife Fund for her educational projects about the dangers of trash.
With her cross-Atlantic background, she has insights on the differences and similarities between US and Netherlands cultures and can help broaden students' worldview.
About the project co-coordinator
Marleen van Arendonk
Marleen van Arendonk has been a professor at Willem de Kooning Academy's Department of Education in Art since 2000 and is recently retired. Baltimore-Rotterdam committee invited Marleen to support this exchange program because of her teaching practice and extensive experience with Rotterdam K-12 schools.
Marleen's experience includes coordinating and guiding projects like "from Rotta to Roffa" (2009), a project about the Port of Rotterdam, which involved students from the Teacher Training Department of the Willem de Kooning Academy Rotterdam, secondary schools in Rotterdam, and the port (more info: facebook.com/watch/?v=10150157904949451). Marleen has visited Baltimore several times and has collaborated with Annet Couwenberg of Maryland Institute College of Art  (MICA), including the groundbreaking "Reflection" project in 2006. In this project, children of six elementary schools and two schools for secondary education from Rotterdam and students in Baltimore created and shared postcard-format artwork with their impressions of life in their respective cities. In Rotterdam the students' work was exhibited in Villa Zebra, an art gallery focused on children's education, while in Baltimore the work was exhibited at Baltimore Visitor Center, with a tie-in to the international Volvo Ocean Race.
Examples of previous Operation Trash exchanges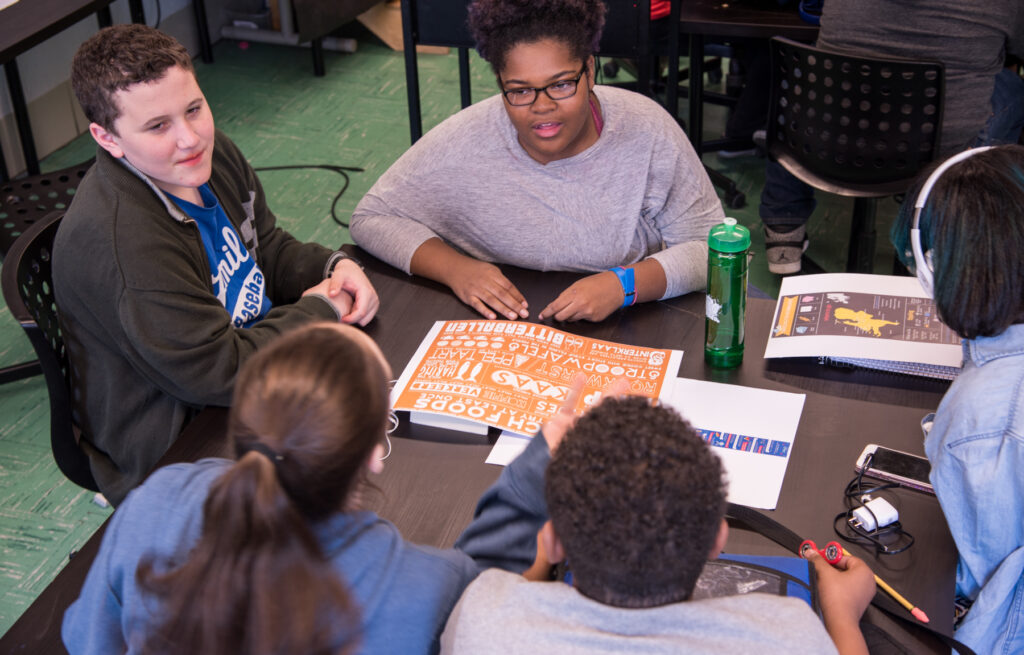 2017
Participating schools: Benjamin Franklin High School, Bard High School Early College, Wolfert van Borselen, Lyceum Vos Vlaardingen
About the exchange
2018
Participating schools: Lakeland Middle School, Het Balkon
About the exchange
Sample student video
Watch video from Lakeland Middle School students participating in an exchange with Dutch students and doing an Operation Trash community cleanup in Baltimore. Video made with assistance from Baltimore Polytechnic Institute students.